We are the Vancouver, Canada-based Paul Latta Dance Studios & Show Productions Company — Canada's largest supplier of instructors, producers, and exporters of the finest in authentic Polynesian dance and spectacular entertainment! Home of the renowned Paul Tavai-Latta Polynesian Dance Champions, under the direction of Canada's only Masters' Degree Kumu Hula/Ra'atira (Instructor/Director) Paul Tavai-Latta
Now celebrating 52 years of instruction and performance excellence, locally and worldwide, the Paul Latta Dance Studios of B.C welcomes you to our classes, workshops, special events and 'LIVE' Performances!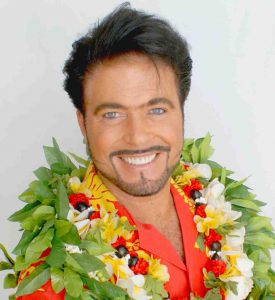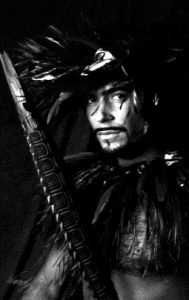 Paul is the owner, operator, and director of Paul Latta Dance Studios (est. 1971) and Paul Latta Show Productions (est. 1973), which later expanded to become Paul Latta Enterprises, encompassing both businesses (est. 1980). He enjoys and actively works in many capacities in the field of entertainment: producer/director, choreographer/instructor, consultant, entertainer/MC, talent coach, costume designer, set designer and creator, show makeup and hair makeover artist, commercial art/design, advertising, international studio, competition, festival consultant, and international dance judge.
Paul's Halau (School) specializes and offers classes in authentic and traditional, as well as contemporary through to modern, dances of Hawaii, New Zealand Maori, Samoa, Tonga, Fiji, Paumotu, Cook Islands and his trademark….the dances of Tahiti, with additional instruction in the music, costumes, geography, language, culture and customs of all Polynesia.
Paul believes proper instruction encourages and nurtures self-esteem, talent, poise, grace, confidence, self-discipline, and pride, all of which is excellent groundwork for any successful future career!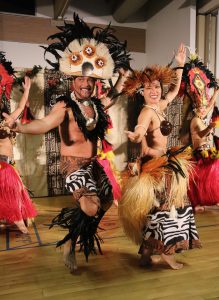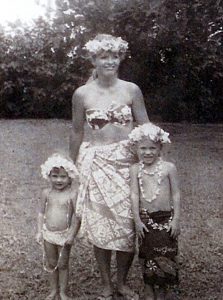 Paul's Polynesan education began as a child with his adoptive Polynesian family, the Tavai family of Rarotonga, Cook Islands. He then attended Brigham Young University in Hawaii, where he studied and performed at the Polynesian Cultural Center in Oahu. Paul Latta holds the only Master's Degree certification in Hula & Pacific Dance in Canada! He was awarded this honour in 1983 by Master Kumu (teacher) Mr. George Lanakilakeki'ahi'ali'i Naope of Hilo, Hawaii.
Paul and his sister Michelle with their parents, Pat & Colleen, lived in Mahina, Mo'orea, Bora Bora, Tahiti; Suva, Fiji; Auckland, New Zealand; Honolulu, Hawaii; Mexico City, and Los Angeles, California. His mother was a dancer with the original "Royal Tahitians", Tahiti's premier & best-known dance troupe. His father was a candidate for Minister of Tourism & Cultural Affairs for the Cook Islands while employed by the Cook Island Trading Co. Paul's return trip to Rarotonga in 1993 was extra special as he received official family documents as a member of the Tavai family.
At its official premier as a public festival in 1983, Uncle George Naope, the founder of the Merrie Monarch Hula Festival of Hawaii and official Judge of Festival Polynesia, gave his blessings to the Festival and encouraged Paul to continue his work and his passion. And so, in 1983, "Hula Halau Ma'e Ma'e Kapua O Kahala", the name bestowed by Uncle George to the Hula / Polynesian Division of Paul Latta Dance Studios, was born. After a brief hiatus, the Festival was re-launched in 1994, and is a welcomed and respected multicultural event showcasing the diverse cultures of the Pacific and Canada.